Five reasons to come to Interact, London's best UX design conference
Every October, the UK's best and brightest UX and design minds descend on the big smoke to exchange ideas and innovations. Interact London is an industry-leading UX, Ai and design conference. And you're not going to want to miss it when it takes place at the Natural History Museum on Wednesday 16th October.
With a sparkling roster of speakers and a new venue to explore, this year's event is set to be our biggest yet. So, whether you're a seasoned attendee or you're still debating whether to tap 'purchase' for your ticket, here are five compelling reasons this year's Interact will be the most brilliant yet.
1) Listen to world class speakers from a cross-section of sectors
while our full line up will be released over the coming months, we wanted to give you a sneak peak now. First up we have Ben Scott-Robinson, founder of the Small Robot Company, who works with his team to find sustainable ways to maximise food production using robotics and AI.
Eva Deckers, director of data enabled design and design strategy at Philips, will look at how we can use data to create personalised systems that are structured around user needs.
Also on the bill is Georgia Bourke, designer at IF, creative user researcher and untangler of tricky perspectives around privacy and security. For the AI-inclined, we have Amir Saffari is SVP of AI Research and BenevolentAI.
Meanwhile, Condé Nast International's global product transformation lead, Mel McVeigh, is an expert in enhancing customer experience, and digital products and services in retail, commerce, publishing and travel brands.
We'll also be joined by Triona Butler, Experience Design Lead at Google, Felicia Williams, Head of Product Design - Social VR at Facebook Londonand Nomensa's CEO Simon Norris.
Keep an eye on the Interact Twitter account for the latest news on our speakers' talks and more.
2) Our theme: The Human and the Machine
It's no secret we're living in a strange and changing world. Humans are facing all kinds of pressures right now – environmental, political and increasingly, technological – and the only way past these problems is through them. So humans will do what they always have done: debate and endeavour to the heart of a question, hopefully finding some solution or illumination along the way.
This year's theme is 'The Human and the Machine' and talks will explore Ai and our relationship to what – or who – we create, use and increasingly live beside (and speak to). Our speakers will ruminate over the existence and applications of Ai, argue over its ethics and reveal new and interesting ways of doing things. Interact's speakers will examine the world and our place within it, both now and in the future.
In these tumultuous times, it's more important than ever for conversations to occur. For stubborn notions to be unpicked and fresh ideas to emerge. And this is the central and guiding thesis for Interact: we want to be the facilitator for these discussions. We want to provoke and inspire by bringing together great minds – both on and off the stage – and push them to seek answers in unexpected places.
It is in this collision that we may find a way forward.
3) Our new choice of venue - the Natural History Museum
Such an ambitious conference needed to be matched with an equally stimulating environment. We could think of nowhere more fitting to wrangle over the next phase of humanity than the Natural History Museum. And for our choice, we're rewarded with a stirring juxtaposition where ancient fossils and dinosaur bones will rub shoulders with robots and Ai experts.
You'll be able to muse over machine learning as you stroll past the bones of megatherium, a now extinct giant sloth (who we can thank for the primordial dissemination of avocados). Stand beneath the would-be belly of Hope, the museums' emblematic blue whale, or steal a few minutes away from networking by exploring the museum and its many treasures, stemming from moon rock to a manuscript of the Origin of the Species.
4) An opportunity to mingle with UX and design experts
Rare is the opportunity to stand in an auditorium full of talented and likeminded individuals. Our audience is made up of designers, UXers, company directors and industry trailblazers. Whether you're sponsoring or attending, you'll get to enjoy the view from the cutting-edge of the UX design sector.
Interact also gives you a chance to tap into new prospects, leads, partnerships and potential projects. You'll get to pick the brains of thought leaders, key decision makers in leading agency and 'end-client' organisations. Who knows, maybe you'll even uncover your next talented recruit hiding somewhere in the audience.
Past attendees include team members from:
5) Networking drinks at Vanderbilt Hotel
After a full day of thought provoking talks, our delegates and sponsors get to unwind and decompress in the elegant Vanderbilt Hotel in Kensington. Stately yet modern, Scoff & Banter Kensington – the hotel's exclusive eatery – is set in the beautiful old Vanderbilt family mansion. Interact attendees will get to tuck into a delectable array of edible delights as they chew over the day's discussions.
Get your Interact ticket today
Super Early Bird and Early Bird tickets have now sold out, but Standard Release tickets are stll available. Buy yours now.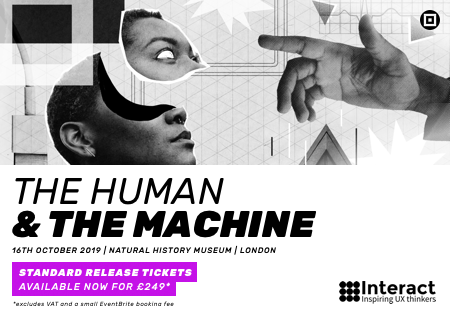 You may also be interested in:
Let's work together
We believe that creating groundbreaking experiences that make measurable differences in the way people live takes a special type of collaboration. Our team designs impactful experiences by leaning on the variety of capabilities and expertise within Nomensa to ensure our solution is bespoke to your needs. We believe collaboration is key, let's work together.
Contact us