We are really proud of this project with Virgin Media Business (VMB) and our continuing partnership with them and the rest of the Liberty Global family.
What's more, this project got the industry talking too, scooping shortlists for various awards and winning B2B Site of the Year at WireHive awards 2017.
25% increase in traffic to the site
25% increase in average session duration
40% decrease in bounce rates on mobile devices
Increasing the value of customer relationships
As you might predict from working with a Richard Branson company like VMB, expectations are high and innovation is at the very core of their vision. They came to us with a twofold objective.
Firstly, they wanted to increase the value of their customer relationships: demonstrating that with VMB on-side, a business will grow faster.
Secondly, they wanted to shrug off the common perception they are just the UK's fastest business broadband provider and raise their profile as a digital telecoms partner to businesses, offering end-to-end connectivity solutions and excellent support and advice.
To meet this challenge, we planned a programme of digital transformation. This began with creating a fully responsive website that went live in time for the launch event with Richard Branson.
Nomensa provided:
A series of user-journeys, tested and optimised to boost sales
A new IA (Information Architecture) based on customer and client interviews
A responsive website with a fresh design on a new platform
New SEO-friendly, accessible copy
Training to enable VMB teams to manage their new CMS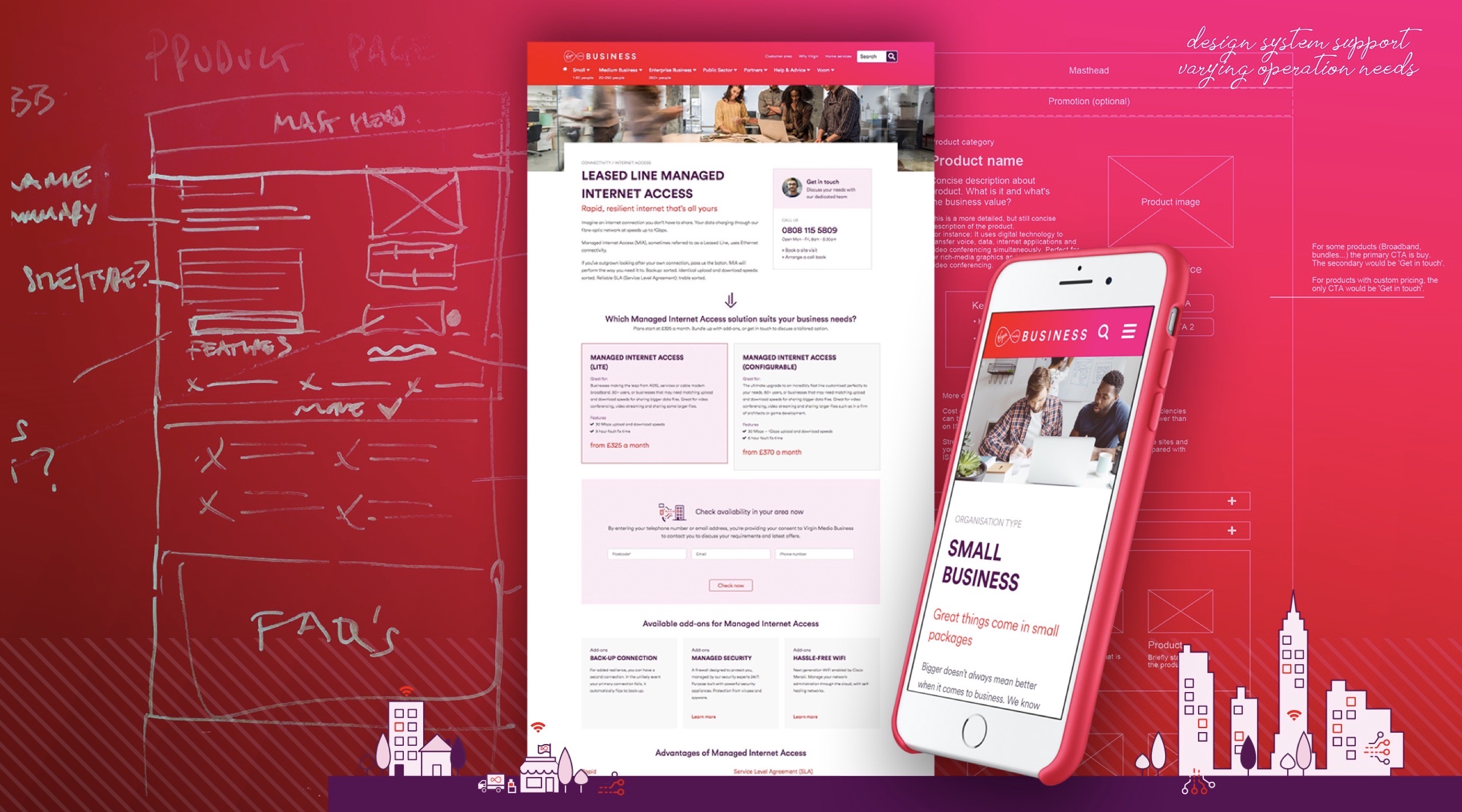 You have just made a huge difference to our business. The new website is such a huge step forward; it brings us bang up to date with what a website should look like in 2017.
Duncan Higgins
Marketing Director at VMB
Bringing the Virgin Media Business customer into focus
Our research built a picture of their customers. We explored sectors, sizes, decision making and how they interacted with their telecoms and IT suppliers. This exposed new opportunities to engage with them, which, when exploited on the new website, would lead to more confident purchasing decisions. Using this research, we created a targeted set of customer portraits and mapped out user journeys that were used in the initial, iterative prototype designs.
Transformation begins from the inside out
A team of Nomensans ran a series of workshops with VMB stakeholders. Collaborating closely like this meant their key players really understood the vision, got behind it and became personally invested in its success.
The new website – a future-proofed platform
A dedicated production team worked in our war room for the design and build phase. They worked in agile sprints, creating content and components for the pages and transferring existing content onto its powerful new content management system – Adobe Experience Manager (AEM). At this stage we brought VMB's digital team inhouse to train them in using AEM. This training allowed them to immediately take ownership of their site after go-live.
The new entry points on the main navigation – Small, Medium, Large business and Public Sector – dramatically improves the way VMB communicates with their customers and can meet their business needs, while the bold design accentuates the Virgin brand values at every step. We didn't build Rome in a day, but we did make sure that all roads led to Rome.
Let's work together
We believe that creating groundbreaking experiences that make measurable differences in the way people live takes a special type of collaboration. Our team designs impactful experiences by leaning on the variety of capabilities and expertise within Nomensa to ensure our solution is bespoke to your needs. We believe collaboration is key, let's work together.