Open Digital Planning (ODP)

is a cross-council programme of work to transform how people apply for planning services. It's a collaboration between multiple councils, central government, agencies, partners and a product supplier.
Nomensa joined in summer 2021 and we now have a content designer and two user researchers embedded in the team. We're contracted by Lambeth Council to spearhead content design and user research, but we work across the ODP project as a whole.
Reforming the planning system
Traditionally, the process of applying for planning permission is slow and applications are often invalid because information is missing or wrong. Equally, planning officer time is wasted chasing up applications, going back and forth with applicants and trying to find the right information.
There's also a lot of variation between local authorities in ways of working, systems and processes.
ODP aims to create faster, smarter and simpler local government planning services. They want to transform planning from an approach reliant on documents and maps to a data-driven, digital system.
Plan X, the product we're using, is a flexible platform to create a 'flow' of questions for applications, allowing councils to edit and adapt to their needs. It's used for services like:
apply for prior approval (launching soon)
apply for planning permission (launching soon)
Nomensa's mission
Our aim of this project was to improve user-centred design ways of working (UCD) to leave a lasting legacy. We wanted to help stakeholders learn more about the value, benefits and opportunities of good (UCD) and best practice. This is vital to make sure we're designing services that work for homeowners, as well as people more used to the existing system, like architects and consultants.
We've done this by leading on user research and content design, setting principles and groundwork to keep adding value throughout the life of the project. We've been leading across the project on research for one year and content design for 2 years now.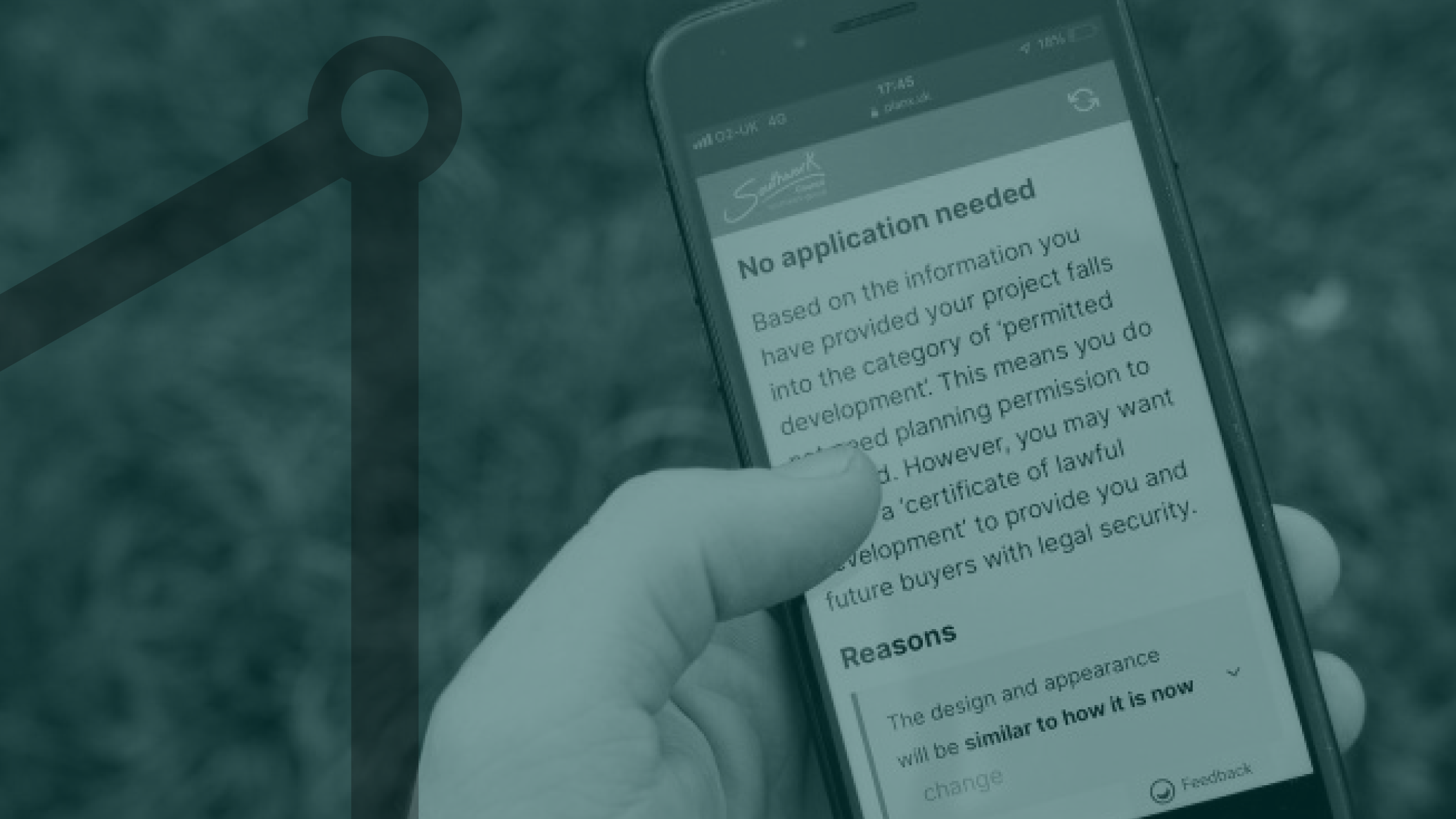 Starting point
There was a huge number of stakeholders to bring along on this journey, from planning officers in a range of councils to senior decision-makers in central government. They all had varying levels of experience with UCD.
When Nomensa joined the project, we were the first content designers on it and needed to quickly establish ways of working alongside improving content. When our UR joined, there was some user research happening but progress was slow and participants were hard to come by. The project relied on internal people or people they knew to be participants, with a high rate of people dropping out or being already quite heavily involved in the planning process. We didn't have much insight from typical homeowners looking to start projects on their homes.
How we embedded user-centred design principles
Our team organised both face-to-face and remote workshops to help stakeholders understand UCD and align the team in approach and thinking.
For research, these included:
An in-person user research 101 presentation to help partners from local authorities understand what user research is, the value and benefits and some best practices
Remote presentations about the value of participant recruitment within user research
In-person presentations about the different types of research methodologies we could incorporate into our agile sprints based on research objectives, time, priorities and budgets
A remote user research workshop to set research goals, objectives and priorities amongst council partners and designers. This helped us create a backlog of activities to plan research around in line with roadmap deadlines and goals, and fill gaps in our knowledge of users
Our content designer delivered:
Remote and in-person training for onboarding councils on content design, what it is and how it helps
A comprehensive guide to writing good planning service content, including tone of voice guidelines, how to write good questions and a style guide
Suggested workflows on how to manage content as the project grew
This was alongside delivering usability sessions, user research reports and working on numerous content design improvements as services evolved.
What's the impact?
Working to embed good practice has meant we've got the whole team excited about sound user research using recruited participants. We've gone from a couple of participants a month to 12 recruited participants per month, and we've onboarded an additional user researcher.
This means we can now iterate more rapidly and make better, evidence-based decisions. Services are benefitting from more development time on components that are slowing users down, creating smoother services for all.
It's also keeping our content designer busy, with so much insight from users on what the sticking points are. We know what they're missing and why, and we are using our good practice guidelines to improve understanding of what is (and will always be!) a complicated process.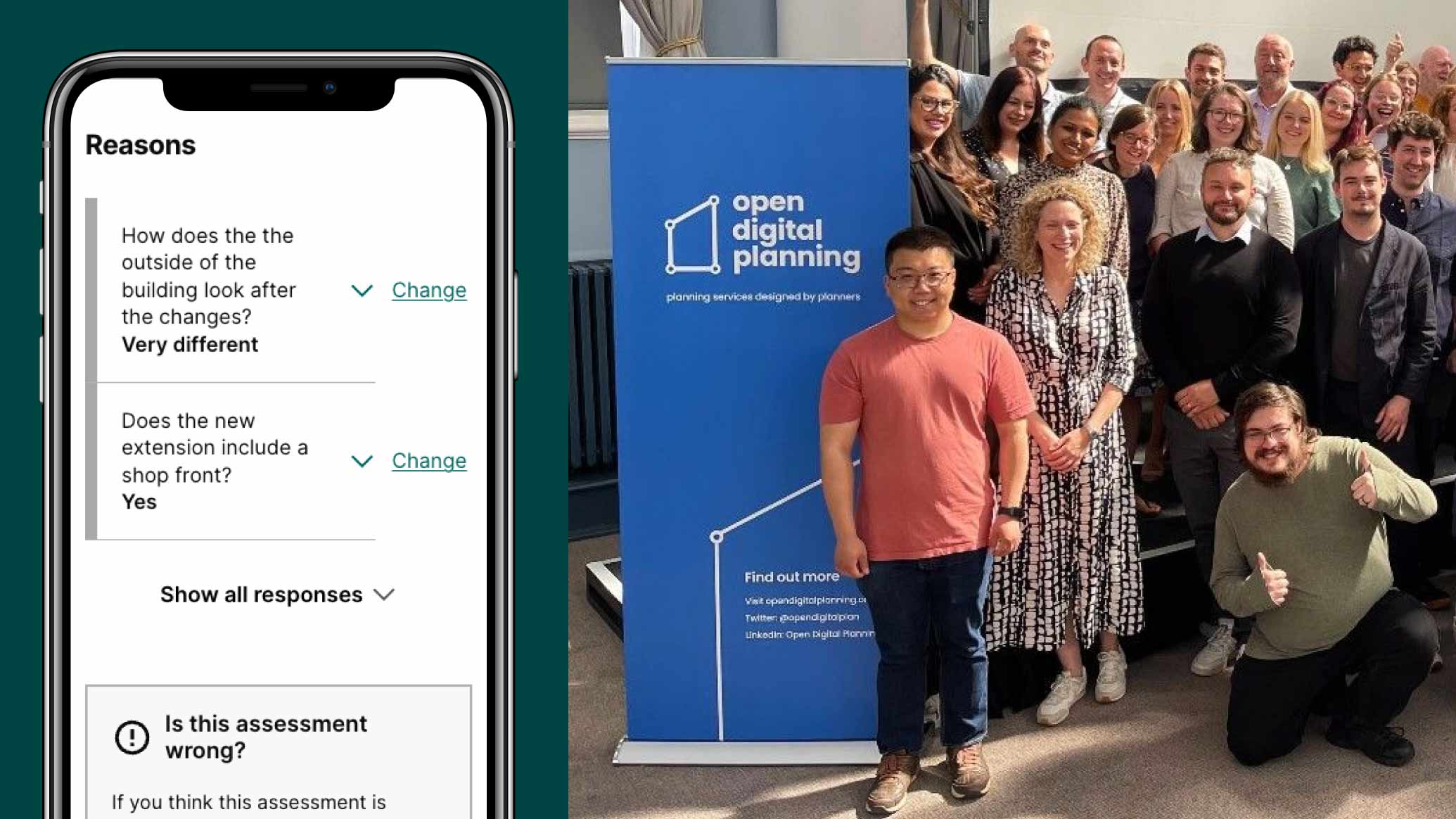 How user-centred design benefits users
At the moment, up to 50% of planning applications are invalid when a council receives them. PlanX is currently demonstrating a 20% reduction in the number of lawful development certificate applications that are invalid – great news for applicants.
And its saving councils money, too – validations on applications are taking 30-35% less time using Plan✕ and BOPS (the new backend system for councils, also part of the ODP project), and the assessment of applications taking 50% less time than it does with the previous systems.
"Since joining the project, Nomensa have greatly improved our content design and user research practices. They've shared learnings and best practices across the project, ensuring all project members are aware of the importance of user needs, accessibility, and how these can be best met by the services being developed."
Emily Hadley
Senior Product Manager at DLUHC
Work with us
We love spreading the good word of UCD, and we're skilled at getting stuck into large, long-term public sector projects. Whether it's content design, research or interaction design you need, we've got you covered. Get in touch to find out how we can help your team.