Liberty Global is the world's largest international TV and broadband provider.
Operating under five consumer brands, they connect over 22 million customers in 12 different European countries to their next-generation services.**
In 2015, we partnered with them on a strategic vision of experience transformation. This leveraged our expertise in psychology, design and technology, and would strengthen their competitive stance in all their European markets. The centralised framework also meant each business saw huge savings in delivery times and costs.
The single solution that translates across markets
Liberty Global's different markets all performed well, but their strengths varied; for example, some excelled at selling, while others were leaders in customer retention and care. The single strategy we developed enabled a series of digital solutions, built on the same platform, that helped them to share this knowledge and generate greater cohesion between the markets.
An insight-driven framework for optimum agility
We began with Virgin Media Ireland's consumer site. This programme of digital transformation was underpinned by an insight-driven framework, formed of IA, design templates and component library, that drastically enhanced key sales journeys, maximised acquisition, provided seamless onboarding and improved retention.
The robustly tested design patterns, templates and technical component library were stored in the centralised experience platform: Adobe Experience Manager. Crucially, this B2C offering was flexible enough to be rapidly applied to Liberty Global's B2B Pan-European market – where they had set their sights set next.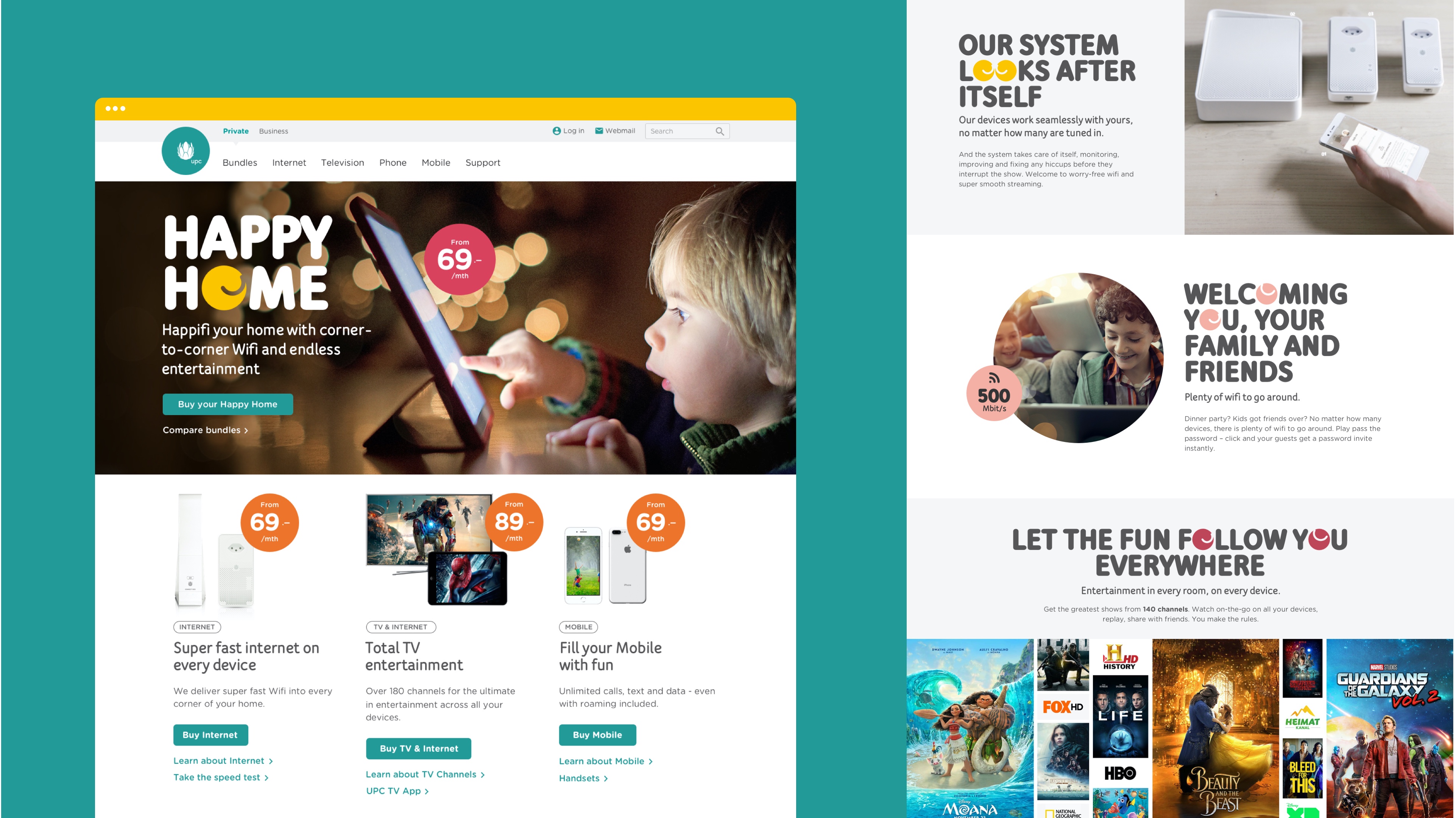 It has been an amazing journey and the best experience I had working on such a large scale project. Looking forward to working with you on continuing our improved customer experience journey and driving digital awareness across the business and our customers.
Ifah Sivak
Digital Platforms & Service Senior Manager at Virgin Media Ireland
A central experience platform
The same strategic framework was rolled-out in the award-winning solution for Virgin Media Business UK, then to UPC Switzerland and Unitymedia in Germany. We worked closely with Liberty Global's technical development team both on and offshore to support the design and build of each complex site. They were built at speed, with the original components developed in Ireland.
The utilisation of the experience platform ensured each market deployment benefited from significant efficiencies in delivery, reduced technical process and enhanced consistency of experience; whilst still enabling them to tailor their content and operation practices locally. Working from one market to the next in this way, also allowed us to observe and exploit the huge opportunity for refinement at each rollout and share it with the other markets.
Collaboration at every level
Fundamental to our success was our ability to work cross-organisationally – from VPs to digital teams, right through to the call centre staff. We undertook interviews to really understand the processes and systems in place and analyse the data and research. We also established a UX working group to work with the different digital teams. This led to greater cross-pollination of ideas, learning and social celebration of the successes the strategy helped deliver.
This collaboration guaranteed the necessary consensus for such a seismic change and meant their insights helped to shape the strategy and solutions. It also empowered them with the skills, materials and guidance to continue developing the solution after we had left.
As the Pan-European roll-out continues, the results speak for themselves: higher retention rates, more customers self-serving with better content and an ever-more personalised experience across the board. The strategic framework continues to grow – keeping Liberty Global agile and responsive enough to stay ahead of the rest: locally and globally.
Let's work together
We believe that creating groundbreaking experiences that make measurable differences in the way people live takes a special type of collaboration. Our team designs impactful experiences by leaning on the variety of capabilities and expertise within Nomensa to ensure our solution is bespoke to your needs. We believe collaboration is key, let's work together.