After working with Nomensa, Walsall Council can easily create cohesive, best-practice digital design that powerfully serves its citizens.
It happens to the best of us. Walsall Council were spending resources maintaining an old, disconnected network of websites that had built up over years.
This situation was hurting internal teams who had to upkeep websites built to different technical standards. And this fragmented user journey was hurting citizens who were simply trying to access everyday council services.
So, as part of their ambitious programme of digital improvement, Walsall Council trusted Nomensa's design team to develop a singular design system that could span across their digital services.
Outcomes
Significantly improved the quality of digital services in line with GOV.UK service standards
Encouraged a greater use of digital self-service by citizens to reduce the council's overall cost to service the community (good digital UX means citizens are less likely to need to phone for help)
Developed a coded design system that met WCAG 2.0 accessibility standards to increase inclusiveness
Increased confidence and capability of internal teams to create and manage best-practice web content
Created a common vision of a new digital brand experience that is agreed upon across stakeholders to maximise adoption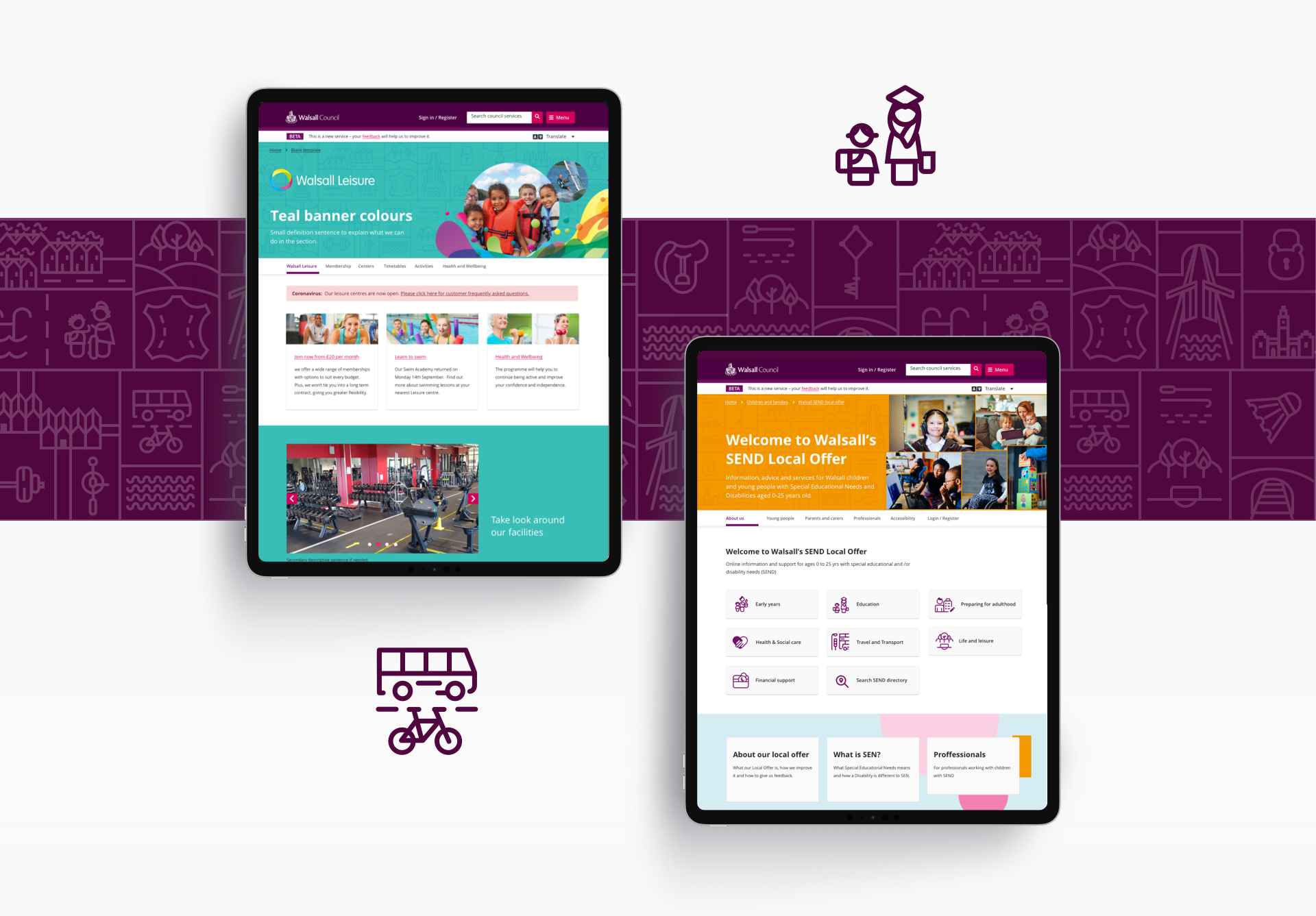 Bringing functional consistency
With our functional and flexible design system, we aimed for Walsall Council to be able to fulfil 80% of their service requirements without needing custom development.
To achieve this, our design team worked closely with stakeholders across all service areas to understand the requirements of individual departments. We then delivered a coded component library that covered their bases: from the fundamentals such as buttons and text fields, through to a new 'step-by-step' component that helps Walsall Council put together content that elegantly guides users through complicated, multi-step processes.
We also developed a new website structure with strong design fundamentals anchored in the tried-and-tested Government Design System and WCAG 2.0 accessibility standards. We brought consistency to user journeys with a new universal navigation, helpful menu breadcrumbs and clearer prominence of call to actions, improving overall accessibility and flow.
Capturing the personality of a place
As described by our head of design Will Wellesley-Davies in his talk 'Humanising the Design of Local Government Services,' a good visual language can help improve usability and build emotional trust with citizens.
Icons help to improve accessibility for users whose first language is not English. To celebrate this modern and diverse community, we drew a scalable icon set that was purposefully inclusive.
Paying homage to this creative place, we created a large, reusable vector illustration that draws from Walsall's heritage of trades such as iron founding, buckle making and leather crafting. But it's not just about looking good: this component forms an emotional resonance that builds citizen trust in the service.
Empowering internal teams
We've provided Walsall Council with rich design tools and resources, strengthening the team's ability to develop the new site by themselves.
And we understand when working with a large organisation like a council, stakeholder engagement helps maximise adoption. Through our transparent and agile way of working, we won buy-in from stakeholders and helped to articulate a common vision of future achievement.
Walsall's robust design system now gives them a head start when delivering and maintaining their digital services. It makes their internal teams more capable, while significantly improving the UX of digital self-service for the people they serve.
Continuing to work together
The success of this project can be seen through our continued partnership with Walsall Council.
After delivering this design system, Walsall Council then tapped our expertise in content design. We co-ordinated their extensive content migration to a new content management system, which included a content audit and the rewriting of key pages according to user needs.
Let's work together
We believe that creating groundbreaking experiences that make measurable differences in the way people live takes a special type of collaboration. Our team designs impactful experiences by leaning on the variety of capabilities and expertise within Nomensa to ensure our solution is bespoke to your needs. We believe collaboration is key, let's work together.